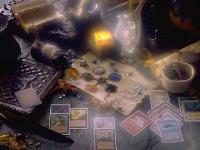 Ask your questions of the Oracle here. Depending on what direction we are guided the answer may come from one of several Tarot or Oracle decks. Please let us know if you have a preference of Oracle over Tarot and/or spread.
*Remember that if your Question is chosen, it will be published on this website. If you do not want your answers published for the world to see, it might be wise to not ask here! (psuedonyms are welcome)
* Remember also that reading questions should be kept succint and not be for anything with a finite date. Most readings are very "in the now" and we may not have the reading done and posted for a couple of weeks-so asking how your surgery will go 'next week' is likely to have been resolved.